Surrey Artists Open Studios 2020
Due to Covid-19, the annual Surrey Artists Open Studios event planned for June has been re-scheduled and is now being held between Saturday 19th September and Sunday 4th October 2020.

Under a timed entry slot system only, I will be exhibiting my work in the studio, shed and garage as well as the garden and meadow sculpture trail.

To keep all our visitors in a welcoming but safe and socially distanced environment please read the slot booking procedure and the safety protocol document.

This year I am delighted to be sharing the studio with Linda Walsh presenting her textile/mixed media art and who loves making pieces where she combines two of her favourite things ... stitching and photography!

The booking system is now open so please email terri@terrismart.co.uk or text/call 07904 204570 to book a slot.

Hope to see you soon!
Terri

The three sea stumps rescued and renovated from Hastings by box maker Andrew Poder, decorated with my seascape ceramic tiles and topped with one of my miniature boats are now on view at Cherry Cottage, and generating a good deal of interest.

They're very old and very heavy so will not be taken out to exhibitions so if you'd like to view them, call me to arrange a time to visit the studio.

Click the stumps for a larger image.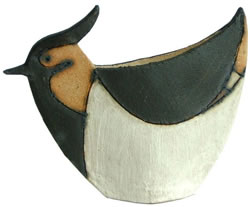 My Online Shop is up and running within this website featuring over 40 of my smaller, easily and safely posted birds and animals. Payment can be made securely online using Paypal Balances or Credit cards.

Take a look - Animals, Birds, Cats, Dogs and Aquatic.
---
My work is kiln-fired using clean wind or solar electricity from ecotricity who are building new sources of renewable energy in the UK. I use bio-degradable or re-used packaging materials in which to deliver or post my pieces. My work is transported to and from exhibitions using a low CO2 emission Toyota Prius hybrid car.


© Terri Smart 1998 - 2020. All Rights Reserved
All pieces and images displayed on this web site are the property of Terri Smart and her business, Clandon Pottery.
None of these copyrighted items or images may be reproduced, distributed, transmitted or otherwise used without the prior written permission of Terri Smart.